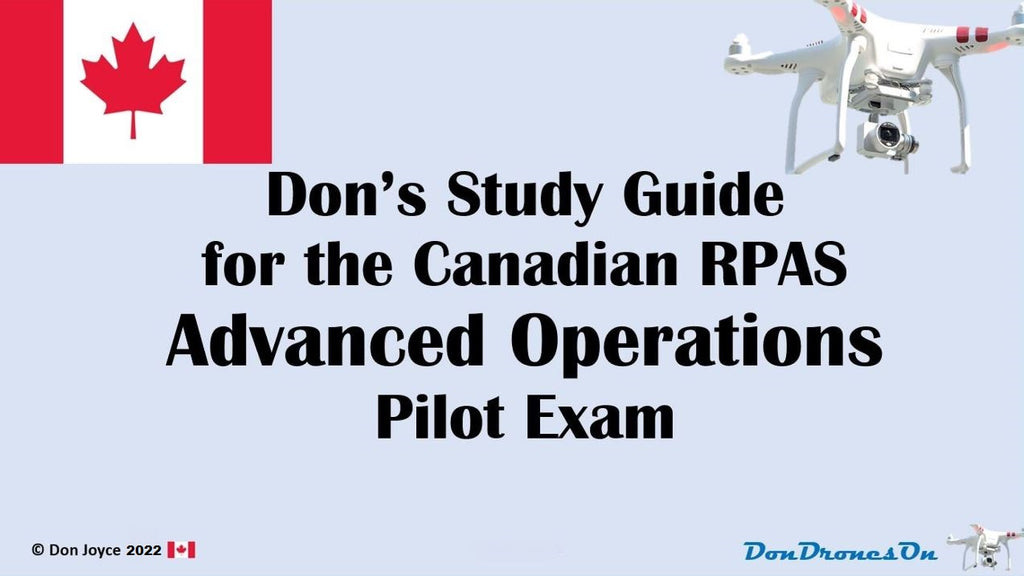 Don's Study Guide for CANADIAN RPAS ADVANCED Operations Exam
ALL in PDF Format Only. 
This one PDF document includes material from the videos Don's Advanced Study Guide, Don's Study Guide for RPAS HUMAN FACTORS, How to Read CFS Charts, Weather Considerations for Drone Pilots,  METARS, Recency, Airspace and Aerodromes, Theory of Flight Part 1, 2, 3 , How Drones Work , Radio Theory For Drone Pilots 1, 2, 3 , NOTAMS and VFR  Charts for Drone Pilots .
© 2023 Don Joyce.  All rights reserved. 
This Study Guide DOES NOT include the Canadian Drone Pilot Log Book. 
This study guide is a soft copy of the PowerPoint presentation shown in the YouTube videos above which helps you prepare for the Drone Pilot Advanced Operations Exam. These videos are free and available on my YouTube channel at DonDronesOn.com. This package is 241 pages.
After watching the videos and using the study guide material, you must still go to the Transport Canada website to take the "Small Advanced Exam". I am not affiliated with Transport Canada and the fee for this study guide does not cover the cost of the Advanced Operations Pilot Exam. In order to be fully certified for Advanced Operations, you also need to pass a Flight Review. This study guide does not cover the cost of a Flight Review. 
All material is provided in soft copy PDF format. I do not supply a hard copy book.
The study guide material is provided in PDF format.  When you purchase this item, you will receive an email with a link for downloading the file.
This copyrighted material is the intellectual property of the author, Don Joyce.  It is for the personal use of the individual purchaser only.  It cannot be shared, distributed, reproduced, or resold by any individual or organization, in whole or in part, without the express written consent of the author.
Transactions appear on your credit card as PocketWatchPurveyor or DonDronesOn. This item is NON-REFUNDABLE.
© 2023 Don Joyce.  All rights reserved. 
FREE Ground Shipping to US and Canada on all orders!  
We pack securely and ship all orders within 24 hours of purchase and payment.  Shipping is from Canada. 
In non-pandemic times delivery takes approx 10 business days. During the pandemic some orders are experiencing significantly longer delivery windows depending on the volume of parcels being handled by Canada Post and USPS. For this same reason, carriers are not providing on time delivery guarantees. As a result, we are currently unable to offer Express Shipping.
We only ship to Canada and the US.